I encourage those I encounter to explore distinctive wines. Nearly all mass market concoctions follow a recipe that provides, but fails to entice or seduce. If you seek intriguing wine, start with the Rieslings of Alsace.
I already hear the crowd roaring. "Riesling? Really? Plus, I drink red wine." Yes. Riesling. For one, Riesling uniquely expresses the place the vines take root. While other varietals can also, this Queen varietal reigns supreme in turning terroir into arresting wines laced with place. For centuries many have hailed Riesling as the noblest of white grapes, partially for this reason. It also earns its stately title for its ancient Germanic heritage, ability to age, and diverse array of styles—dry, off-dry, sweet, and late harvest ice wine. Despite these noble characteristics, most American consumers have never touched Alsatian Riesling to their lips, liquid or word.
Alsace (al-zahs) lies in eastern France bordering Germany. While Alsatian producers also grow Pinot Blanc, Pinot Gris, Gewürztraminer, and Pinot Noir, they craft 10% of the Riesling produced globally. With a cool climate, complex soils, and high elevation, Alsace provides an ideal terroir for aromatic varietals that benefit from electric acidity. Those who know the wines of Alsace well respect its place in the hallowed halls of fine wine. Sommeliers, for example, appreciate its simultaneous profundity and food-friendliness.

While attending the Wine Bloggers Conference in the Finger Lakes region of New York, I attended a session focused wholly on Alsatian dry Riesling. I had enjoyed Alsatian whites before, but never had I comparatively tasted dry Rieslings from the region. The wines poured ranged from linear and piercing to mid-weight and round. The results impressed the attendees at my table, including this chap.
Notes: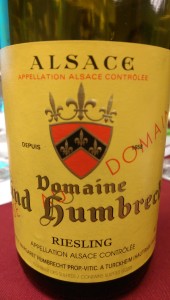 2013 Zind-Humbrecht Riesling ($22):
An unbroken winemaking lineage since 1620.
Biodynamic practitioner and advocate.
2013 vintage comes from the gravelly silt soils of the Herrenweg plot.
Light yellow with a hint of silver. Aromas of pineapple, and lemon. Linear, cutting acidity with mineral notes leaping from the glass. Alluring, sprightly, AND serious. 5 g/l residual sugar. Excellent.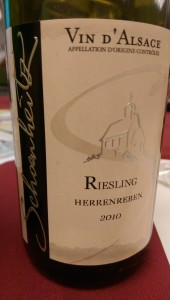 2010 Schoenheitz Riesling Herrenreben ($20):
Founded in 1980, Schoenheitz is a small, family owned winery.
A single-vineyard designate wine.
A cool vintage by Alsatian standards.
From sandy, granite soils, a gentle yellow color meets the eye. Slate, green apple, and a hint of petrol. Tuning fork acidity hums pleasingly through the palate. 9 g/l residual sugar. Stellar.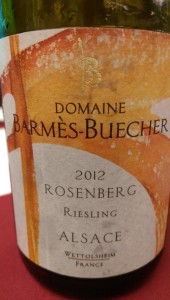 2012 Barmes-Buecher Riesling Rosenberg ($33):
Created in 1985, the Domaine began biodynamically farming their vineyards in 1998.
Predominately clay-limestone soils with some sandstone inclusions.
The vintage falls on the cooler side of the spectrum, though not far from average.
Fresh lemon aromas with medium acidity (gentler than the previous two wines). On the palate, the wine provides depth, along with a unique mid-weight character. Round while still nimble. 2 g/l residual sugar. Excellent.
If you have yet to taste the wines of Alsace, break the mold, sprint to your local merchant, and inquire about a recommended bottle. Then bring it to my house to share. Cheers!