Willamette Valley Pin . . . No. Stop there. Riesling. Willamette Valley Riesling. For winemakers and the wine obsessed, this combination brings little surprise. For most, Riesling sounds like an afterthought in the land of world-class Pinot Noir. Enter Weinbau Paetra. Buy, pop, swirl, and see.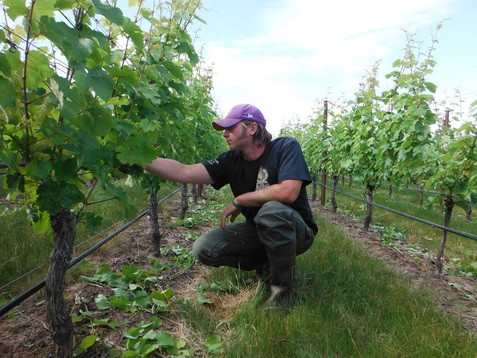 Bill Hooper worked his way into a few fine wine shops before starting with The Wine Company, a well-regarded, independent distributor of fine wines. After marrying a German gal, he eventually flew the coop and spent time in Pfalz, Germany studying viticulture and winemaking at the Wine and Agricultural school in Neustadt an der Weinstraße. He is one of only two American graduates in the 115 year history of the school. After returning stateside, Oregon became the clear mecca for a rabble-rousing Riesling producer. He founded Weinbau Paetra, a micro-production label crafting uncompromising Riesling (and more). Expect to find Bill's wines in fine wine shops across the Twin Cities metro and Portland, and you can't find finer American-made Riesling. The "K" Riesling, his entry wine and an homage to the Kabinett Rieslings of Germany, will give you a taste of what to expect. After tasting, you'll explore further. I've known these wines as cult-worthy, and after tasting more broadly understand that the money can follow the mouth.
I had the fortune of attending the 2017 Willamette Barrel Auction, a lavish, riotous event featuring some of the top producers in the valley. At the after party, magnums galore graced the bar. 1999 St. Innocent Seven Springs Vineyard and Shea Vineyard Pinot Noir, 2012 Alexana Revana Vineyard Pinot Noir, Adelsheim 1993 Elizabeth's Reserve Pinot Noir. It was a hell of a night. The showstopper? A bottle of 2001 Chehalem Riesling (Ridgecrest, I believe, and possibly 2000). Age had treated the wine oh so kindly. Petrol, steely minerality, and a dash of fruit weaved itself into a mesmerizing work of art.
Riesling has captured the attention of somms and wine explorers. If you have an interest in figuring out why, while adding some affordable, cellar-worthy bottles to your stash, give a go with Paetra's Riesling lineup.