"You must know the price. Ask! You are professionals!" Giorgia Casadio began to preach her gospel. Too many wine professionals had come to her table, tasted her wine, and failed to inquire about the price of each bottle. A group of Wine Bloggers Conference attendees shifted, alert on the chairs and bed corners of a fellow blogger's hotel room. "I recently tasted a Cabernet in Napa Valley. It cost $140 a bottle. In Italy, it's understood that it's easy to make excellent wine when it costs $140. Judge a winery based on its table wine, its $15 bottle. That is the truest test."
Amen.
Expensive wine deserves respect, and if worthy of the price, it can penetrate your psyche for years to come. However, with a high price comes the unique opportunity for the winegrower to coddle the vines and juice endlessly to massage them into producing profound wine. Terroir also influences quality, and it too adds to the price tag—prime vine real estate commands fortunes. Some wine historians contend first and second growth Bordeaux* grew into their titles rather than earning them justly in 1855. Essentially, the chicken or egg debate applies, and world-class quality came second. The prices the "First Growth" designation allowed wineries to charge gave them the capital needed to produce stellar wine.
Flip the equation. What can a winery create for $10 a bottle? This depends on terroir, care, and commitment. Vineyard managers and winemakers must take the time and energy to weave through the tangles and nuances of their vineyards and varietals. Which corner of your vineyard will blend with another vineyard row a mile away to produce a wine better than the two parts? Which varietals will uniquely meld to enhance and elevate the finished wine? Will you care for the lesser locales within your vineyards with as much force and drive as the rest? Will you seek out the over-looked acres hiding on and beyond the edges of your AVA? I respect producers who care enough to ponder these questions and heed their call. These winemakers craft memorable wine for the common man. Amen, Giorgia.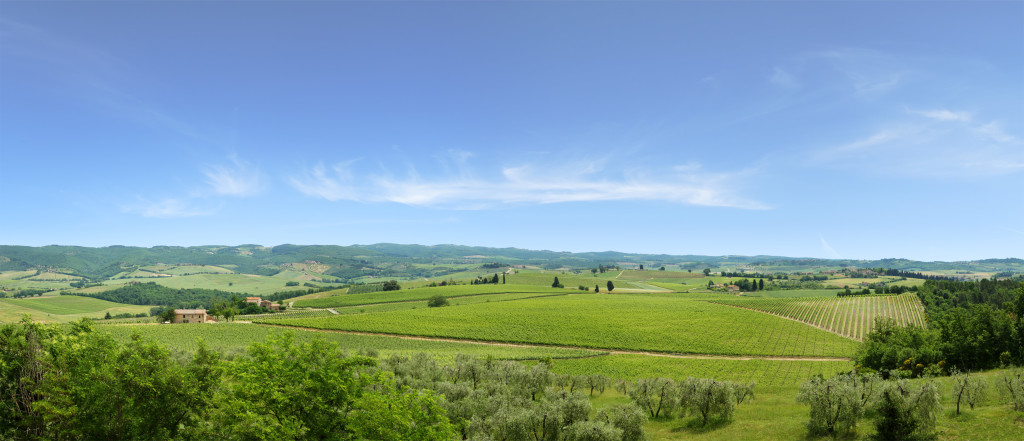 Giorgia attended the 2015 Wine Bloggers Conference to share her wines from Villa Trasqua. Her Tuscan winery deserves respect at every price point, which speaks to Giorgia's truth. Seek value. Does the wine rise above others at the price point? Thankfully you can find her valuable wines in 14 states, including Washington and Oregon.
2013 Traluna Toscana Rosso ($13): Red fruited with a pinch of baking spices. Mostly Sangiovese with a bit of Alicante Bouschet, this table wine currently strikes me as a bit discordant. However, age will certainly allow it to meld (age-worthiness quickly became a theme when tasting through a line up of Villa Trasqua wines). 13% abv. Good (will likely move to "delightful" with age).
2009 Fanatico Chianti Classico Reserva ($25): 100% Sangiovese, this Reserva resonated purity. Rustic, sexy, honest, age-worthy, memorable—a benchmark wine. Stellar.
2008 Trasolo ($120): Made with 100% Merlot, round, dark fruit produces a lush depth. Aged in new French oak, the fruit stands up proudly against its force. Italian-style shows through this historically French grape. Surprising. Excellent.
*The 1855 Classification System solidified a hierarchy amongst the wineries of Bordeaux. First growth estates, the top-tier, only number 5. The list goes from first to fifth growth, though the large majority of wineries in Bordeaux exist outside this classification system.