July has produced a preponderance of news and excitement here at Wagon Wine. First, the wine industry has called my name. The family at Fullerton Wines has hired me to manage public relations and the wine club, maintain and acquire accounts in the Portland area, and help in the cellar. I begin in August.
Integrity matters. Consequently, after this post, I will not review or mention Fullerton Wines, or their second label Three Otters (formerly Bull's Eye), on this blog. However, I will say this today: I would never work for a winery I did not respect both for the quality of the wine and the integrity of its mission. Find more information at Fullerton Wines. To my readers' benefit, I will use the knowledge and insight I acquire with Fullerton Wines to inform my posts on Wagon Wine. I have thus far written as an industry outsider with a focus and passion for northwest wines. Although I will now work within the industry, I will continue writing at Wagon Wine for the consumer—you.
I also received news in late June that the Wine Bloggers Conference awarded me a scholarship to attend this year's conferencein the celebrated wine region of Finger Lakes, New York. Held in Corning, the conference uniquely allows me to network with fellow citizen and industry bloggers, explore a wine region I have yet to visit, and learn from industry professionals, including Karen MacNeil, author of The Wine Bible (I have previously recommended this essential book). Thank you to the generous sponsors who made this possible. I am thrilled and humbled.
I cannot depart without briefly sharing two wines I have recently tasted and devoured due to the stunning QPR*:
2013 Lone Birch Red Blend, Yakima Valley ($10): I love a good second label wine, and Airfield Estates' Lone Birch fits the bill beautifully. Fresh, fruit forward aromas of plum and blackberry greet you along with a kiss (big smooch) of toast and dark chocolate. Smoothly textured with mild tannins, and gentle, balancing acidity. The wine struck me as surprisingly complete. While not huge on "blind tastings," I would put money down on this wine against many other Washington red blends at higher price points. Delightful.
Un Autre Monde Pinot Noir, Willamette Valley ($13): Thank you Bruce of Vino, Portland for turning me on to this wine (Bruce's notes). Best value Pinot Noir I have tasted to date. A blend of 2011 and 2012 fruit from esteemed (unknown) vineyards–one within Dundee and the other Yamhill-Carlton. The cool and ideal weather conditions of these two vintages meld into a stunning Willamette Valley NV blend. Cranberry, cocoa, and spice align on this linear, piercing frame. Nuanced, surprising, the wine evolved provocatively over the course of the evening. Unfortunately, we can't expect to see this wine again. Excellent.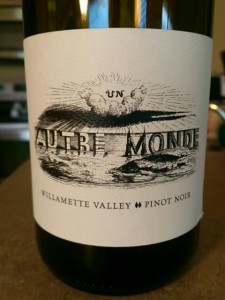 Finally, I spent over two weeks of July back in Minnesota, the motherland for the Wieland family. While home, my mother married her partner, Kevin, in a lovely lakeside wedding. Cheers to the couple–may the wind be always at your back.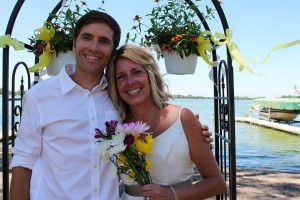 *QPR = Quality-Price Ratio