The Columbia Gorge Winegrowers Association (CGWA) recently hosted a Grand Tasting at Castaway in NW Portland. After a few days of pondering and reflecting on my notes, I feel more confident than ever that the Columbia Gorge AVA has a bigger and brighter future ahead (though perhaps we shouldn't hope for "bigger"). This AVA garners relatively little press from regional and national press. As a consequence, it is a spring lilac, under-appreciated, that forces your attention when you get within proximity. Your senses awaken.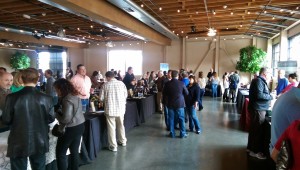 Why the Columbia Gorge? The breadth of styles and varieties, in conjunction with quality, provide consumers with a dreamy array of wines from a small geographic area–40 miles west to east. The Columbia Gorge quickly transitions from forested foothills with significant annual rainfall to elevated, sloping desert overlooking the Columbia River. You can taste sauvignon blanc, pinot noir, sangiovese, barbera, nebbiolo, chardonnay, zinfandel, cabernet franc, syrah, grenache, and blends both traditional and path forging, all while only scratching the surface of this AVAs offerings. This blessing of diversity may also provide one of the confounding factors–what grapes thrive where? Experience, often through trial and error, has helped uncover the "spirit" grape(s) of many parcels of land. What works at a vineyard 2 or 3 miles west will likely pan out quite differently, or even fail, at your vineyard. All factors impacting terroir change drastically in short distances here.

Wines and Wineries of Note:
If you live in the Portland area, consider attending the Columbia Gorge Grand Tasting in the future. Head to tasting rooms on a typical weekend, and you often have 30 seconds to hear the shtick from tasting room staffers before they must move on to the throngs of other guests. Understandable, but also disappointing if you appreciate discussing the details of the wine in your glass. However, attend this tasting, hosted by the CGWA, and you will have a unique opportunity to talk directly with many winemakers, owners, and/or heads of sales and tasting rooms (especially if you arrive early). These pillars of the industry can provide the details and stories behind the wine you enjoy. 

Cheers!