All of us share the experience of buying wine. Wine purchasing can feel anxiety laden, laborious, or blissful. Wine knowledge can thankfully increase comfort and help move a buyer from anxiety to giddy-with-delight. Coming soon, wine literature must reads to increase your understanding. Today, however, let's focus on where to buy your wine. Who can you trust? Where can you find good deals–value at all price points?
Local Wine Shop
First and foremost, find a local shop that you can call "yours." Ensure friendly, unpretentious, service-minded staff proudly work for this shop. Then make it your wine home. You may need to shop around to find the fit for you–the balance between competent, committed staff, fair pricing, and a solid repertoire of wines. Once done, share your personal tastes with the staff, and encourage them to both compliment and challenge your palate. When you do head to the shop, plan to buy a case. Nearly every shop worth its weight has a 15-20% case discount, which undoubtedly helps the ol' pocket book. Go less often, if need be, but load up while there.

Garagiste and Full Pull Wines
These two Seattle-based online wine retailers use email to introduce wine offers of the week (Full Pull) or day (Garagiste). Jon Rimmerman, founder of Garagiste, writes about his daily offerings loquaciously, which may delight or irritate you depending upon your preferences. However his writing strikes you, he has a knack for seeking out and offering small to medium production wines at reasonable to striking values. If you reside near Seattle, you can pick up your wine, no fee (true for Full Pull also). If you live afar, Garagiste ships for a reasonable fee, especially if you live relatively close to Washington. I especially respect Rimmerman's appreciation of food-friendly, moderate alcohol wines. Additionally, he often gets his hands on older wines from winery cellars. Examples? 1874 Sisqueille Riversaltes (ignore the $500 price tag), or the more reasonable 2006 Yering Station Chardonnay I now have cellared in my basement. Garagiste also puts great emphasis on provenance. Your wine will be cellared from production to the moment it hits the trucks to head to your door, and then the shipments to your door will only go out fall and spring to ensure reasonable weather during transport.

Full Pull sends out less frequent emails, and typically offers multiple wines per email. Their greatest strength? If you seek out the best Northwest wines, the bottles fought over tooth and nail, Full Pull may be the connection you are seeking. Gramercy and Leonetti? Check and check. They do offer international wines, but maintain a solid focus on Northwest wines of all prices.

Both retailers do not require purchase quotas–you can read the emails for years and never buy wine.

Winery Wine Clubs
Generally speaking, wine clubs at wineries offer little financial benefit. You can find the wines more reasonably priced elsewhere, even with the member discount they advertise. If you live locally, however, winery club membership comes with benefits beyond the "discount" bottle pricing–free tastings, invitations to member only barrel tastings, cellar room dinners, etc. I recommend a winery wine club only for these additional benefits, or the access to limited production and hard to find wines.
Unique Online Retailers
Anytime we, the consumers, can cut out the middlemen from our wine purchases, we get more for our money. Online retailers like Naked Wines and 90+ Cellars fill this niche. Naked Wines uses a cooperative model in which wine drinkers, like you or I, can become "Angel" investors and help support small to medium production winemakers through our investment. Winemakers receive a venue to sell their wines to a large market (one of the greatest challenges in the business), and Angel members receive 40-60% retail from a plethora of producers funded by Naked Wines. Like most cooperatives, you need not become an Angel member to buy wine, but you receive the best deals if you do.
Born out of the Great Recession in 2009, 90+ Cellars began as a means for high-quality producers to sell their luxury wine, which challenged producers and retailers at the time. 90+ Cellars simply uses their unique label, rather than the wineries in-house label, then they agree to keep hush about the producer and source of the wine. With 90+ serving as the distributor and retailer, producers sell portions of their wine quite effortlessly. Consumers, on the other hand, receive these wines at a steep discount along with a promise that all wines have received 90+ scores from the major wine press. You will know the country, state, and AVA of your wine, but nothing more about the producer or vineyard.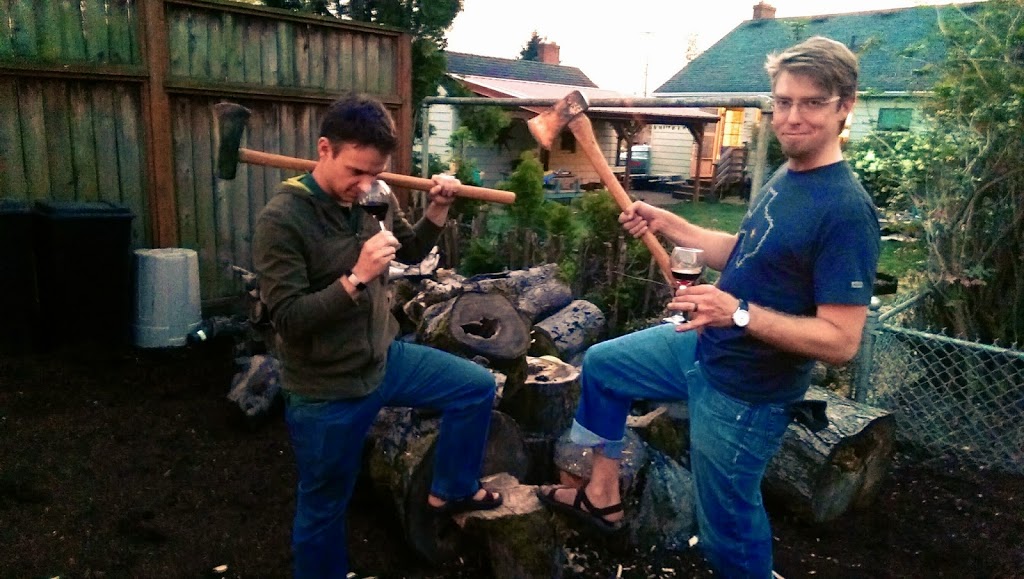 Just another night with the boys
If you are like me, you purchase wine from a variety of sources–different shops, wine clubs, and online retailers. Keep exploring–quality and value await in this ever and rapidly changing market.