Why can I buy a solid, terroir-nuanced Cabernet Sauvignon from Washington for $18, while I can't buy an equally alluring Pinot Noir from neighboring Oregon for under $30? Why the huge variety and volume of respectable Languedoc-Roussillon red blends (France) for under $15, while I can't buy equally unadulterated* cabernet sauvignons for that price from California? These two scenarios only hint at the tip of the economic iceberg when it comes to wine. The price tag at our local wine shop reflects a complex web of factors leading to that ultimate number. I will devote a series of posts to the factors that weight price tags toward affordability or incomprehensibility.
Part I: The Land
Location, location, location–economically impactful in real estate, retail business, and wine. How can one Napa Valley Cabernet Sauvignon sell for $150, while another bottle from vines grown within eyesight sells for $18? Vineyard location plays a role (discussion of other factors in upcoming posts). The $18 bottle almost certainly originates from grapes grown on the flats at the bottom of the Napa Valley. Flat, fertile valley bottoms encourage abundant growth and yields, and frequently mediocre wine as a consequence. Hillsides, even gentle slopes, typically have more shallow, less fertile soil. Grapes stress in these soils, and as a consequence put more energy into the fruit for the propagation of the plant. Stressed vines produce better wine. Therefore, hillside vineyard sites cost more money in notable grape producing areas–Napa Valley, for instance. The steepest vineyard sites can also add additional expenses due to the relative inaccessibility and associated labor costs to maintain the vines.

More broadly, land values fluctuate drastically because of other geographic factors. California and Washington's Columbia Valley serve well as counter-examples. For those who have travelled the Columbia Valley AVA, it is a vast, sparsely populated desert. As a consequence, the value of vineyard land often costs pennies to the dollar in comparison to most California vineyards. Many California AVAs, on the other hand, exist near population centers. California has also received global praise for the production of fine wine for decades longer than Washington. Both of these factors drive land prices higher than similar vineyard sites in the Columbia Valley. The Columbia Valley, of course, has exceptions to the rule. Some sub-AVAs have garnered reputations that drive prices sky-high. Red Mountain, for instance, recently sold land at a competitive auction for a hefty price. Expect more Columbia Valley vineyard land to follow suit as Washington continues to gain international respect. Back in California, the Central Valley, well away from the moderate climate on the coast and the largest population centers, proves the exception in the state, but few grapes recognizable as important wine grapes grow here. Rather, this relatively inexpensive valley produces an abundance of teinturier grapes intended as additives to serve as an inexpensive filler for many, if not most, bottles under $20 from California (and around the world). Wine regulations in California, and most regulations nationally and globally, allow for 10-15% of the juice to come from varietals not listed on the bottle, which gives wineries the option to top off bottles with inexpensive filler. Up north, Washington wineries producing bottles under $12-15 likely use similar or identical additives made from teinturier, but the climate, in conjunction with inexpensive land, greatly reduces the need for additives in most years.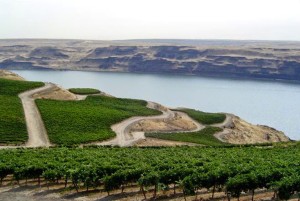 The Columbia Valley AVA. Note the vastness and lack of development in the background. Courtesy of Seven Hills Winery.




Land ownership can also give wineries an economic advantage. For instance, an upstart winery in Oregon, which recently purchased 40 acres of prime Pinot Noir growing real estate, now owes banks or investors for this purchase. This new winery will need to pass on the land expense in the final cost of the bottle (unless the owner cares naught for the economic viability of the winery itself, a scenario that plays itself out with surprising frequency–enter the "hobby winery"). Some wineries in the Old World have had the economic advantage of owning their land for hundreds of years. This allows them to either lower their price, giving them a competitive advantage, or provide additional revenue to invest as they see fit.

The land grapes grow upon exists within our global, competitive economy. As evidenced by the details above, many of the same factors that create disparities between home values significantly impact the cost of wines we purchase from our favorite wine shop. Location, for one, matters.

Many simplifications exist in the information above. Economic factors certainly overlap and intertwine in a complex manner. For instance, not all low-lying vineyards produce bad wine. Proper vineyard management in low-lying vineyards can produce excellent wine. The soil also plays a substantial role. However, people seeking to produce bulk, value wine frequently choose cheaper land–the lowlands. Generalities are necessary to discuss the topic meaningfully, even if imperfectly.
Finally, excuse the long hiatus. An unexpected death in my family, in conjunction with the holiday season, postponed my writing ventures.

Coming soon, Wine Economics Part II: Grape Varietals and their Economic Impact. Happy New Year!

*Unadulterated = limited technological and chemical manipulations e.g. additives (Mega Purple), spinning cones to reduce ABV (alcohol by volume), etc.