As well as recline at Syncline's estate winery (see photo and caption below). A recent visit to Syncline Cellars, near Lyle, Washington, left me giddy to write this post. James and Poppie Mantone have crafted distinctive, memorable wines, while also creating an idyllic destination winery.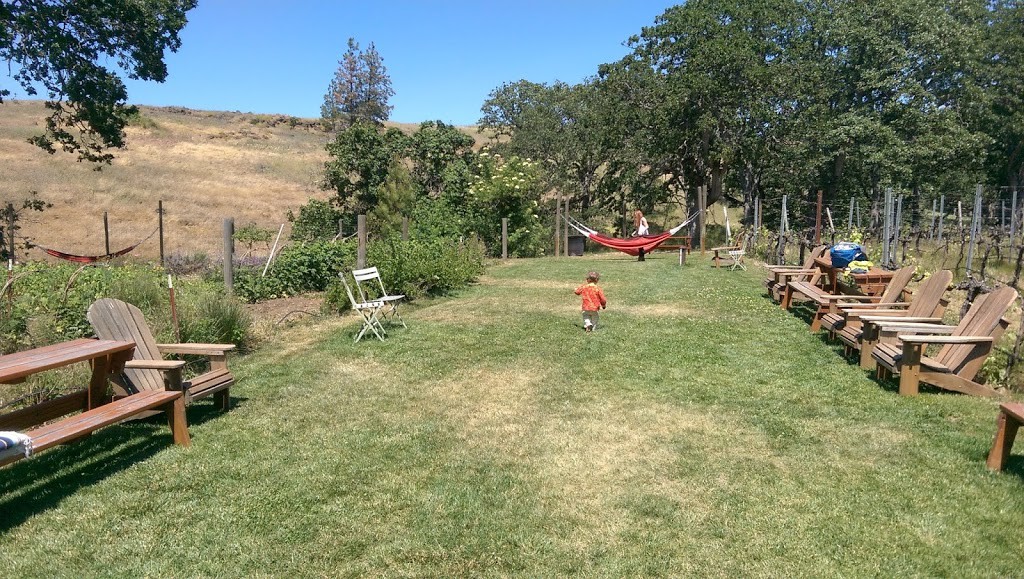 Inclined to recline while drinking Syncline wine
Located along the eastern side of the Columbia Gorge AVA, Syncline focuses on Rhone varietals. In the winery, James Mantone treats his wines with minimal to no new oak, opting for concrete fermenters, and concrete or neutral oak for aging. Syncline uses native yeast fermentations whenever possible. When you combine the winemaking style, well-sourced fruit, and Rhone varietals — both unique (Picpoul) and well-lauded (Syrah) — expect wines that will delight and intrigue, pure expressions of the land.
Cement fermenter at Syncline Wine Cellars
2014 Gruner Veltliner ($20): From Underwood Mountain and Celilo Vineyard, this 100% Gruner Veltliner balances focused acidity with complex aromas of citrus, savory nuts, and grass. 550 cases. Delightful.
2013 Subduction Red ($20): Syncline's flagship wine, with 2,500 of the winery's 6,000 cases set aside for this gateway bottling. A blend of Syrah, Mourvedre, Carignan, Counoise, Grenache, and Cinsault. Opens with floral aromas alongside juicy, red fruits including cherry and watermelon. Medium body with mild tannins–a smooth drink. Enjoy young. Excellent.
2013 Cinsault McKinley Springs Vineyard ($35): Rarely found as a single varietal wine, this Cinsault has a captivating nose of sweet prunes and luscious red fruits. A silky, smooth entrance leads to distinctive savory, spicy notes alongside the ripe fruit characteristics. Well balanced. 200 cases. Delightful.
2012 Syrah McKinley Springs Vineyard ($30): Crimson in color, a swirl releases aromas of blueberry and blackberry, as well as cocoa and a hint of smoke. At 14.4%, the wine fills your mouth with a delightful density. Medium-plus tannins. Dark and brazenly seductive. 350 cases. Excellent.
Next time you swing through the Columbia Gorge, do not miss your opportunity to visit Syncline Wine Cellars. Syncline exemplifies the best of what the Columbia Gorge AVA can offer.